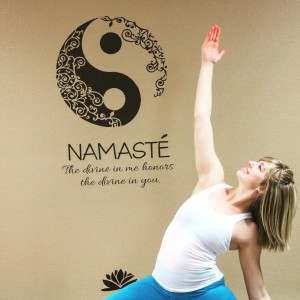 Hey Yoga Lifers!
I chose to call this page Yoga Lifer because yoga is a practice that we can do for LIFE at any age! It is a practice that I truly believe is for all walks of life no matter your age, size, abilities, gender, knowledge, etc. I hear SO MANY people say all the time, "I can't do yoga, I'm not flexible." My response, that's exactly the reason WHY you should practice yoga! Yes, yoga can help improve flexibility, but there is so much more to the practice of yoga. Yoga builds strength, balance, breath awareness, body awareness, mindfulness, presence on the mat, and overall confidence.
I have been practicing yoga since I was 14 years old. I put it on my bucket list in high school to someday become a yoga teacher. Never in a million years did I think it would happen at the age of 20! I have been a yogi for almost 10 years now, and I have truly transformed in my practice. When I started, it was just about learning the basics and enjoying time on my mat. At the beginning of college I went through a hot yoga phase, in which I was more focused on it being a 'workout'. Today, I enjoy all styles of yoga, but my favorites are vinyasa and restorative, depending on my mood. I love a good vinyasa flow on my own mat in which I can just breathe and use my breathe to flow in and out of poses that my body is craving that day. I also love a good restorative yoga class in the evening in which I can breathe and relax into a pose for a few minutes. I have also become very focused on balancing my chakras through yoga and essential oils, in which I will be sharing more of that information with you in this section of the website as well.
Overall, I hope you enjoy these yoga practices as much as I love teaching them. Take time for yourself to get on your yoga mat and practice whenever your body is telling you that it needs it. Make room in your schedule to go to a studio and take a yoga class as well, for it is a truly different experience than doing it on your own at home and will serve you greatly! Enjoy.
~Namaste~